Double Paned Window


Energy efficient windows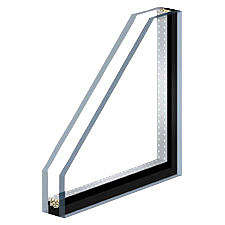 Searching for the best energy efficient replacement windows? A double paned window is more than worth considering.
Traditional residential windows have one pane, or layer of glass and more than 50% of American homes still have these outdated single pane windows.
Single pane windows do very little to insulate a home from the outside conditions, resulting in unnecessary energy loss and discomfort.


Double pane windows have immediate benefits

Double pane windows and triple glazed windows are considerably more efficient. These units can insulate up to twice as well as single pane units. This is made possible in large part because of the vacuumed and pre sealed insulating air space between the layers of glass.

Gas filled windows and Low E windows

Gas filled windows have safe and dense atmospheric gases inserted and sealed between the two layers of glass. This further insulates and significantly reduces heat transfer.
In some models thin microscopic low e glazing is pre placed on the inside layers of both window panes, primarily to further lower heat loss rates. These built in energy saving window treatments further utilize both layers of glass, thus significantly improving the window energy efficiency rating.
---