Choosing the best replacement windows


Finding the best energy efficient windows for your home

Searching for the best replacement windows for an existing home or for a new home requires understanding your regional climate conditions and the effects of heat loss and heat gain to your home cooling and heating costs.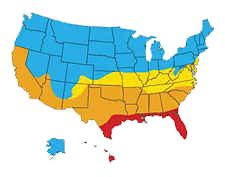 In fact regional climate is the first major consideration that any potential consumer should make before selecting the best energy efficient windows for their home.
The U.S Dept of Energy, through its Energy Star Program, has designated four different U.S climate zones with regard to replacement windows.
Energy star windows are proven, through independent testing, to meet or exceed specific energy efficiency performance standards for one or more of these climate zones.


---

Northern Zone

Winter home heating is the largest concern in this climate region. Therefore units with low rates of heat loss, or U-Factor ratings, would be the best energy efficient windows. Low E glazing is often used on glass to lower U-Factor rates.

Gas filled windowswhen combined with low e coatings, will go along way to even further insulate warm air.

North Central Zone
More care full considerations are needed. Heating costs are still more likely to be of concern than home cooling costs, but some seasonal trade offs are needed.

So energy star windows with low U-Factor ratings and moderately low Solar Heat Gain ratings for the summer and spring may be the best energy efficient windows for your home.


---

South Central Zone

A trade off between reduced heat gain and reduced heat loss is more likely needed in this zone than in any other throughout the United States.

Energy star windows with low SHGC ratings and moderately low U factor ratings will be the best replacement windows for energy savings minded home owners living in this region.


Southern Zone
In the southern climate zone undoubtedly home cooling costs are the primary concern. The best new home windows for you will be models that have the lowest solar heat gain ratings.

Some low e glazing can even further reduce solar heat gain by insulating and deflecting unwanted daytime heat, lowering your air conditioning costs.



Certified energy star windows have to meet or exceed specific performance standards, U factor rating and SHGC rating, in one or more of the designated climate zones. Click here for specifics.


---
---