Compact fluorescent light bulbs


Energy efficient CFL light bulbs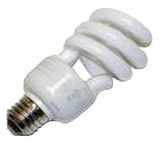 If you haven't already, switch your traditional bulbs with compact fluorescent light bulbs or CFL bulbs. Begin with the most used light fixtures.
If every American replaced just one bulb with an energy efficient light bulb, enough electricity would be saved to light more than 3 million homes for an entire year.
Energy saver light bulbs use 65% to 75% less electricity than traditional incandescent bulbs. And now CFL light bulbs come in several shapes, fitting almost any lamp or lighting fixture.


Energy efficient light bulbs last up to 10 times longer
Yes compact fluorescent light bulbs use considerably less electricity than traditional bulbs, but the real beauty of these energy saver light bulbs is their longevity. These energy efficient light bulbs can last up to 10 times longer than incandescent bulbs.


How much can you save with

energy saver light bulbs

?


See how energy efficient these light bulbs are by using our savings calculator. Then consider that the average American home has up to 30 light fixtures. How many light fixtures (indoors and outdoors) does your home have?


Improved light quality


These aren't your old fluorescent bulbs. These energy saver light bulbs don't flicker like the first fluorescent bulbs. CFL light bulbs produce a warmer light compared to the first generation of fluorescent bulbs. So you have to deal with a pale and cold light that can make a home feel more like an office building.


Lower Prices
Over the last few years the price of CFL light bulbs has decreased. Some big retailers have CFL's priced as low as $1 to $2 each. A big difference from the price tags these bulbs sported just a few years ago.


Before making the switch
Learn how to switch to energy star light bulbs. Do you have dimming light switches at home? Switch your bulbs with new dimmable CFL bulbs.
It's important to note that compact fluorescent light bulbs contain small traces of mercury, so proper CFL disposal and recycling is very important.
---
CFL light bulbs are one of the easiest ways to save electricity. Prove it to yourself, use our
CFL savings calculator
and see the potential savings.
Join our new online CFL savings group. It's free, fast and easy to join!