CFL light bulbs and light quality


Compact fluorescent light bulbs have come a long way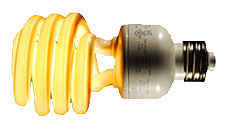 CFL light bulbs in many ways are miniature versions of the full size fluorescent bulbs that still can be found in many office buildings, schools and factories.
Fortunately for homeowners, compact fluorescent light bulbs have improved light quality. These energy efficient light bulbs now come in multiple shades and colors.
Compact fluorescent light bulbs have recently come much closer to producing the same warm and cozy light enjoyed by traditional bulbs. Homeowners no longer have to deal with pale and discomforting lighting in order to save electricity.
Color of light and overall comfort

You may not think of light in terms of color. But for some of us different shades of light and different colors and can set certain wanted and unwanted moods. Warm light from a living room table lamp may allow many of us to make the daily transition from work, or school, to the long awaited comfort of home.
CFL light bulbs and Kelvins

The temperature of light produced by any bulb is measured in Kelvins. Light bulbs with higher Kelvins actually give off cooler colors like blue or white. Bulbs with lower Kelvins produce warmer, and for some, more comforting colors like warm white or orange.
In rooms and fixtures where maximum comfort is desired, such as living rooms and bedrooms, CFL's that produce light temperatures between 2650 and 2800 degrees Kelvins would be most suitable.
The degrees in Kelvins, or light color, can be found on most energy efficient light bulbs. Some CFL manufactures use descriptive terms such as warm white or soft white instead.


Shapes and Sizes

It's also important to note that a CFL light bulbs come in several shapes and sizes. And which bulb would be best for a particular light fixture may depend on the type of the bulb itself.


---