Residential thermostats


Climate control and home energy savings
Residential thermostats are often viewed as simple automatic switches that turn heating and cooling systems on or off. But climate control is the primary job of a home thermostat, by preventing uncomfortable temperature changes indoors.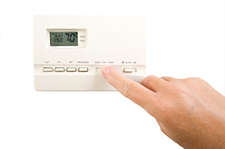 However throughout many homes in the U.S, outdated residential thermostats (while effective at maintaining comfortable room temperatures) can needless waste energy and money.

New age thermostats offer homeowners greater climate control, resulting in significant energy savings without the needless sacrifice of home comfort.
Saving doesn't mean sacrificing
When most people think about residential thermostats and saving energy they immediately think about turning down the temperature and throwing on their favorite sweater.
It's true that manually turning down the temperature will save you money. It's also true that for as little as $30, you can have this automatically done for you without ever having to put on a sweater.
Programmable thermostats
With programmable thermostats, homeowners can easily program or preset their thermostats to make automatic temperature adjustments at times when no one is home or when everyone is sound asleep.
And likewise, the same settings can be programmed to automatically readjust the temperature shortly before returning home or awakening from a good nights sleep.
Taking advantage of such times significantly increases energy efficiency, giving central home heating and home cooling systems a much needed break.
New wireless climate control thermostats provide homeowners even further customized climate control settings. Different models can often have several different functions. With that said choosing the best programmable thermostat for your home requires some careful consideration.
Stay ahead of your utility provider
Many utility companies today have whats called multi variable rate pricing plans. These pricing plans set higher electricity and natural gas rates during peak times and lower rates during off peak times.
With a programmable thermostat, energy savings minded homeowners can schedule their climate control settings in order to reduce usage during these higher priced times. Peak times are usually during the weekends and afternoons.
It's a good idea to contact your current provider to inquire about possible pricing differences during such peak and off peak times.
Replacing a wall thermostat
Replacing or installing a wall mounted thermostat is a relatively easy do it yourself project. In fact most models, even newer wireless thermostats, come with instructions on how to mount and how to wire a home thermostat.


---
Climate control thermostats can come with several different programmable settings. Choose the best programmable thermostat for your home.


---