Window energy efficiency rating system
Select the best energy efficient windows for your home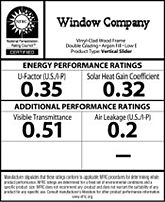 Better your understanding of how window energy efficiency is rated. This will ensure that you purchase the best energy efficient new home or replacement windows for your home.
The National Fenestration Rating Council or NFRC is a non profit organization that has long developed a well respected window energy efficiency rating system.
All tested window units have energy performance ratings provided by the NFRC performance label.
These ratings are the only way to compare efficiency. Understanding this system can make the difference.
U-Factor Rating
The U-factor rating measures the amount of heat loss that occurs throughout the entire window unit, even the window frame. So don't forget about the frame, which frame you choose can have a huge effect on overall window efficiency.
This is incredibly important in colder climate regions. The lower the U-factor rating the better the window insulates heat.


Solar Heat Gain Coefficient
The solar heat gain coefficient, or for short SHGC, measures the amount of the suns heat that the entire window transfers. This is more important in warmer climate regions. The SHGC is rated on a scale from 0 to 1, the lower the SHGC the less solar heat the unit transfers.


Air Leakage Rating

The air leakage rating, or AL, measures the total amount of energy loss that escapes through the entire unit in cubic feet.
New home windows come in different operating styles and the style you select may have an impact on AL rates.
Consumers should also be aware of the fact manufactures are currently not required to allow the NFRC to put their products through air leakage performance tests.
Visible Transmittance Rating

The visible transmittance rating, or VT, simply measures how much sunlight, not solar heat, is allowed through the window unit. VT should not be viewed as merely a cosmetic measurement. High visible transmittance can allow you to take full savings advantage of natural daylight.
It's also important to note that currently VT ratings are optional and this performance rating will not appear on all NFRC performance labels.
---
---