Solar window coverings and shades
Energy saving window treatments and coverings

Solar window coverings are worth considering, especially if you live in a warm climate region with prolonged summers. These energy saving window treatments are generally more effective at lowering home cooling cost than thermal or insulating window coverings.
The most effective approach to reducing solar heat gain is to prevent it before it contacts the window glass. So it should come as no surprise that exterior solar window coverings are more effective than interior window treatments.
Some interior energy saving window coverings are quite effective at both reducing solar heat gain and heat loss.


Outdoor window shades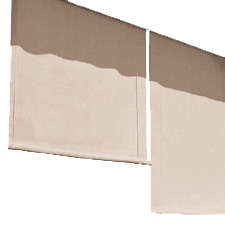 Solar window blinds or shades are usually made up of solid screen or mesh like fabric, often this fabric is either polyester or vinyl and sometimes a combination of the two.
These solar window coverings if applied on the exterior can absorb and reflect from 85% to 95% of the suns natural heat.
Exterior solar window blinds and shades can be purchased as solid units or by the square foot. Roller sun shades are usually sold by the square foot.
These outdoor window shades are fitted just off the exterior window pane, leaving a small air space between the glass and the shade. Roller exterior sun shades provide homeowners the option of rolling them up at night for either full ventilation or for a full view.
The best windows to install them on are south, east and west facing windows. Or any large window, patio door or a skylight that is exposed to 3 or more hours a day of directs sunlight.


Outdoor window shades are durable

Exterior sun shades are very durable and relatively inexpensive, ranging from $2 to $4 a square foot. PVC coatings are applied on the synthetic fabric to protect against wear and tear as well as color fading.
PVC coatings are long lasting; in fact similar weatherized coatings are placed on other durable products ranging from rain coats to auto mechanic gloves.


Maintains window view

These exterior window coverings are more transparent than most interior window shades. The synthetic mesh like fabric softly filters sunlight. Product descriptions for outdoor solar window blinds use terms like openness or openness factor.
The openness factor is the percentage of visible sunlight that is transmitted. The higher the openness factor the clearer the outward view will be when the solar window shade is closed.


Protects home furnishings

Depending on the particular product, solar sun screens can also block from 75% to 95% of harmful ultra violet light. UV light causes household fabrics to prematurely fade and costly wood furnishings to bleach.


Easy to maintain

Outdoor window shades are easy to clean. Any water and soap based cleaner will normally do. Many models available today are also fire resistant.
However it's important to note that since exterior window shades are exposed to the outdoor elements, these energy saving window treatments will require some greater maintenance commitment from energy savings minded homeowners.
---
Other outdoor solar window coverings
Awning window treatment reduces home cooling costs by providing much needed external shade from the sun, not to mention window awnings can add much to a homes decorative appeal.
External window shutters and inside window shutters if installed and sealed tightly can reduce more solar heat gain than many other energy saving window coverings and treatments.
---