Indoor or inside window shutters




Indoor window shutters are one the most decorative energy saving window treatments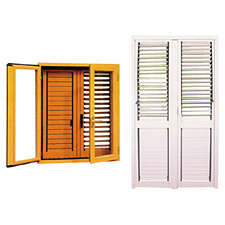 Indoor or inside window shutters are quickly gaining popularity, largely for their undeniable decorative appeal.
However homeowners should also take into account the energy savings benefits of installing inside or indoor window shutters.
These energy saving window treatments coverings are very effective at blocking and absorbing solar heat, resulting in lower home cooling bills.
If you reside in a predominantly warm climate region, interior window shutters are more than worth considering.
When tightly sealed along the window trim, inside window shutters can also reduce some heat loss during the winter months.
However it's worth noting that there are other insulated window coverings that are significantly more effective at reducing heat loss during the fall and winter months, such as external window shutters.
Elegant finishes can transform entire rooms

Interior window shutters come in sections, or what is commonly referred to as panels. These panels are usually made to size and then combined to provide a tightly sealed interior window covering.
These energy saving window coverings are generally better suited for large window units. Many indoor window shutters today have stained and finished wood panels.
Traditional and contemporary wood panels, especially when installed in kitchens and living rooms, can immediately transform any living quarters.


Traditional inside shutters

Sometimes called colonial window shutters, they have smaller light omitting and light restricting slats. These slats, better known as louvers, are usually around 1 inch wide.
Smaller louvers generally limit the homeowners overall ability to regulate the incoming sunlight and heat. With that said, traditional shutters are not surprisingly less expensive than their counterparts.


Plantation indoor shutters

Sometimes referred to as contemporary shutters. These inside window shutters are growing in popularity, mainly because they have considerably larger light regulating louvers. The louvers are usually 2 to 4 inches wide, or even wider.
The larger louvers allow for greater light and heat control. Plantation indoor window shutters are better suited for large window units than traditional shutters.


Protects house hold fabrics and woods

Interior window shutters not only reduce solar heat gain, they also block significant amounts of ultra violet light. UV rays are responsible for the fading of most household fabrics and the bleaching of expensive wood furnishings.


Installation options

How many individual panels will be needed to provide a tight seal around the entire window unit? This will depend solely on the size of the window unit itself. Therefore accurate measurements of the interior window trim is needed before even purchasing inside window shutters.
Indoor window shutters can be installed inside the window trim, or whats called an inside mount. This provides a tighter seal pressing the shutter close to the window pane. An inside mount allows these energy saving window treatments to be more effective at reducing solar heat.
Or they can be installed to cover the outside of the window trim, often referred to as an outside mount. This type of installation leaves a bigger space between the window pane and the shutter.

---