Insulating window blinds and shades


Replace your vinyl blinds with insulated window coverings

Insulating window blinds, shades and coverings are thermal energy saving window treatments that all homeowners should seriously consider.
These thermal window coverings are far more energy efficient and decorative than standard vinyl mini blinds. Standard vinyl blinds with slats are essentially just light restricting window treatments.
Insulating window blinds and shades both halt the costly escape of household heat during the winter as well as shade and absorb solar heat during the dog days of summer. In fact thermal window shades can stop up to 80% of heat loss and 86% of heat gain.
---

Pleated window shades are the new standard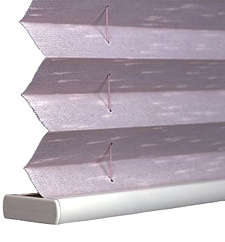 Pleated window shades have uniformly stitched layers of fabric.
These layers providing an insulating barrier between the window pane and a homes interior.
There similar in texture to decorative pleated lamp shades, and unlike mini blinds they have no adjustable slats.
Instead they can be neatly and easily adjusted vertically or horizontally to regulate incoming sunlight.



---
Cellular or Honeycomb window shades

Cellular or honeycomb window shades look very similar to pleated shades, in fact there also made of pleated fabrics.
The difference is cellular shades have other layers sewed to form extra insulating compartments between the pleated fabrics.
The extra insulation between the pleated fabrics resembles a honeycomb, hence their often used secondary name.
These thermal window coverings are available in single, double and triple insulated layers or cells. The more cells between the pleated fabrics, then the greater the insulation and the home energy savings potential.


Decorative appeal

Insulating window blinds and shades are year round energy saving window coverings, there also quite functional and decorative. Pleated and cellular shades are much more decorative than standard vinyl blinds.
Insulated window shades stack and fold very lightly, unlike heavy decorative curtains and drapes. In years past they were popular among upscale homeowners only, now these energy saving window treatments are available in a wide array of designs and colors at affordable prices.


---
Other insulated window coverings
Insulating window film is a thin sheet of heat absorbing and reflecting material that can be applied to the inside of a window pane. This insulating window film can significantly reduce both heat loss and gain.

Interior storm windows provide homeowners much of the same insulating energy savings benefits that double paned and triple paned windows do. And plastic window insulation film can serve as temporary interior storm windows for homeowners seeking a more cost effective solution.

External window shutters if installed and fitted properly can very effectively insulate household heat and also block solar heat gain.


---