Awning window treatment
Decorative solar window coverings that save energy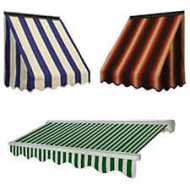 With awning window treatment you can add style to your home and significantly reduce your cooling bills by absorbing solar heat before it contacts your windows.
Awnings are energy saving window treatments that cover and shade windows like giant umbrellas.
Installing window awnings is a very effective and time tested solution to reducing solar heat gain at the window.
These solar window coverings can reduced heat gain by 65% to 77%. There best suited on east, west and south facing windows.


Consider the drop of the window awning

The distance the window covering drops over the window is also important. This distance is referred to as the drop of the awning and will determine how much shade the awning treatment will provide a particular window.
How much of the original window view will be maintained after installation will also depend on this distance.


Decorative fabrics and designs

Traditional window awnings were made mostly of cast iron. Modern awning window treatments are considerable more decorative. Contemporary, elegant and classical designs are currently available to energy savings minded homeowners, instantly enhancing curb appeal.


Retractable window awnings
A retractable window awning can offer consumers even more energy savings potential than a fixed window awning. Retractable window awnings can be adjusted during the off peak daytime hours to maximize on the suns natural light.
These retractable energy saving window treatments also allow homeowners to fully benefit from the suns heat during the cooler times of the year. Retractable awnings are ideal for patios, back and front porches, as well as decks.


Types of window awnings

Custom window awnings are generally more expensive but usually more decorative. And they almost always have sides to block multiple angles of hot direct sun light.
Non customized awnings are less expensive than customized treatments but homeowners can lose the ability to select the amount of shade desired. Non custom window awning treatments come with pre set drop distances.
Do it yourself window awnings are becoming ever so popular. There usually sold in kits that come equipped with all the necessary instructions. Do it yourself awning kits usually doe not come with sides like most custom awnings.
But they can be installed significantly wider than the window surface, making them still very effective solar window coverings.
---